Investment strategy and fund objective
ANNOX Alpha Fund is a quantitative multi-strategy long/short hedge fund. The goal is to provide consistent and stable returns throughout changing financial climates.
The overall capital allocation is divided between equities, fixed income, commodities, and currency, with exposure gained through index products such as futures contracts, exchange-traded funds, and spot FX.
ANNOX Alpha Fund applies a broad range of mathematical tools originating in machine learning and mathematical optimization to effectively identify investment opportunities and uncover repetitive patterns and dependencies that can be exploited. In practice, this is done by evaluating thousands of assets on a daily basis and gradually moving in and out of the markets as momentary investment opportunities arise, while considering the inherent underlying risk.
ANNOX Alpha Fund – Luxembourg
ANNOX A/S will launch on 20 December 2017 in Luxembourg as ANNOX Alpha Fund in a RAIF structure (Reserved Alternative Investment Fund) with GAM as Mangement Company. ANNOX Alpha Fund is a subfund of ANNOX SICAV-RAIF.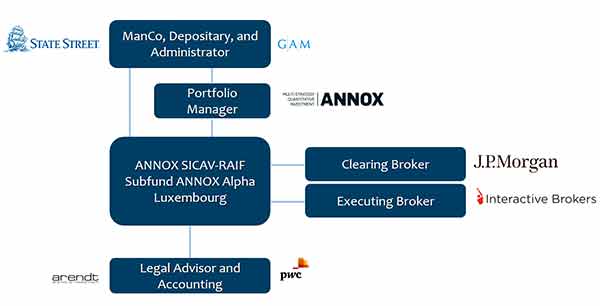 Investment strategy
A quantitative multi-strategy long/short fund using machine learning, econometrics, and mathematical optimization. A special emphasis is put on minimizing tail risk.
Investment objective
To deliver consistent absolute returns by dynamically changing positions.
Technology
Automated portfolio management executed from dedicated AWS Amazon servers through API to executing broker (Interactive Brokers).
Investment universe
◾Futures contracts, ETFs, spot FX
◾Only index products (no single stock/bond positions)
◾Four asset classes (stocks, bonds, commodities, currency)
Capital protection
◾Active management of gross and net exposures
Portfolio construction
◾Diversified
◾100-150 positions
◾Four asset classes
Portfolio restrictions
◾Max gross exposure 300/1000%*
◾Max net exposure +/- 100%
◾Max exposure to one asset class 50%
◾Max exposure to one position 10%
◾No illiquid investments* Max exposure to currency is 1000%, for all other 300%
Share Classes of ANNOX Alpha Fund
 Fund name

Share




Class

Currency

DIST /




CAP

Minimum




Subscription

Maximum




Subscription Fee

Maximum




Redemption Fee

Management




Fee (max.)

Performance




Fee

ISIN




Code

 ANNOX Alpha Fund
C
EUR
CAP
EUR 250.000
0.00%
0.00%
0.50% p.a.
25%
LU1696442927
 ANNOX Alpha Fund
S
EUR
CAP
EUR 125.000
0.00%
0.00%
0.00%
20% until 31.12.2020,
30% afterwards
LU1696443065
Share Classes of ANNOX Alpha Fund
 Fund name

 Share




Class

 Currency

 DIST /




CAP

 Minimum




Subscription

 Maximum




Subscription Fee

 ANNOX Alpha Fund
 C
 EUR
 CAP
 EUR 250.000
 0.00%
 ANNOX Alpha Fund
 S
 EUR
 CAP
 EUR 125.000
  0.00%
 Fund name

 Maximum




Redemption Fee

Management




Fee (max.)

Performance




Fee

ISIN




Code

 ANNOX Alpha Fund
 0.00%
 0.50% p.a.
 25%
 LU1696
442927
 ANNOX Alpha Fund
  0.00%
  0.00%
 20% up to 31.12.2020,
30% afterwards
 LU1696
443065